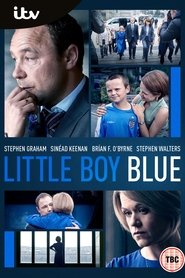 Little Boy Blue
Based on a true story, this four-part drama tells the story of the murder of 11-year-old Rhys Jones in Croxteth, Liverpool, in 2007. It explores Melanie's and Steve's ordeal, and tells of how Rhys' murderer and associates were eventually brought to justice.
Episodes: 3
Status: Returning Series
Seasons: 1
All Episodes
You may also like
The Family
This thriller follows the return of a politician's young son who was presumed dead after disappearing over a decade earlier. As the mysterious young man is welcomed back into his family, suspicions emerge — is he really who he says he is?

Country:
Genre:
The Night Manager
Former British soldier Jonathan Pine navigates the shadowy recesses of Whitehall and Washington where an unholy alliance operates between the intelligence community and the secret arms trade. To infiltrate the inner circle of lethal arms dealer Richard Onslow Roper, Pine must himself become a criminal.

Country:
Genre:
Apple Tree Yard
What starts out as a simple, reckless mid-life affair between a genetic scientist named Yvonne and a Westminster paper pusher takes an intriguing turn when she realizes he's a spook – then suddenly gets very dark indeed. A provocative study of obsession, longing and just how far down a criminal path desire can take you.

Country:
Genre:
Shopping King Louie
A romance takes place between Kang Ji-Sung aka Louie and Ko Bok-Sil. Louie is from a rich family, but he has lost his memory. Ko Bok-Sil is a woman with a heart like an angel. Louie learns about true love after meeting Ko Bok-Sil.

Country:
Genre:
Another Miss Oh
Two women working in the same industry with the exact same name keep getting their lives entangled both professionally and personally.

Country:
Genre:
Secret
A devoted woman makes the ultimate sacrifice for her boyfriend, only to learn that love doesn't always conquer all. Yoo Jeong (Hwang Jeong Eum) is a sweet, upbeat person who has always stuck by her boyfriend, Ahn Do Hoon (Bae Soo Bin), all through school as he cared for a disabled father. But Do Hoon gets into a car accident that results in the death of a woman. Unable to face her boyfriend having to go to jail for a hit-and-run accident, the self-sacrificing Yoo Jeong takes the blame for the accident and serves time in prison in his place. Min Hyeok (Ji Sung), a cold-hearted heir to a business empire, had just begun to open his heart to a woman when she is killed in the hit-and-run accident. Years later, he is engaged to Shin Se Yeon (Lee Da Hee), a congressman's daughter. Can Yoo Jeong and Min Hyeok mend their wounded hearts and discover the real meaning of love?

Country:
Genre:
The Five
When they were twelve years old, Mark, Pru, Danny and Slade were out together in the park. Mark's five-year-old brother, Jesse, was annoying them. They were mean – told him to get lost. Jesse ran away. He was gone. Never seen again. Twenty years later, Danny – now a detective – learns some shocking news. Jesse's DNA has been found at a murder scene. He is alive and out there. Somewhere.

Country:
Genre:
The Returned
Residents of the small mountain town of Caldwell, Washington grapple with the mysterious return of their dead loved ones. With no memory of their deaths, and no awareness of the time that has passed in their absence, the returned struggle to reintegrate into a world that has changed without them.
Based on the French series Les Revenants, an adaptation of the 2004 film "They Came Back."

Country:
Genre:
M*A*S*H
The 4077th Mobile Army Surgical Hospital is stuck in the middle of the Korean war. With little help from the circumstances they find themselves in, they are forced to make their own fun. Fond of practical jokes and revenge, the doctors, nurses, administrators, and soldiers often find ways of making wartime life bearable.

Country:
Genre:
Love, Nina
Twenty years old and from Leicester, Nina moves to North London in 1982, to care for the two young boys of a working single mother, George, the editor of a London literary review.

Country:
Genre:
Melissa & Joey
Melissa & Joey is an ABC Family original television series starring Melissa Joan Hart and Joey Lawrence that premiered on ABC Family on August 17, 2010. The series follows local politician Mel Burke and Joe Longo, whom Mel hires to look after her niece and nephew after a Ponzi scheme leaves him broke.

Country:
Genre:
Flower Knights: The Beginning
Drama series depicts the story of Hwarang (literally "Flowering Knights") – an elite group of male youth during the Kingdom of Silla.

Country:
Genre: